We are excited to announce v13.4.0 of Device42 with the following changes.
Progress bar and status page for long running reports
[responsive]

[/responsive]
Prior to v13.4.0, the Export To Excel button on report definition pages caused a report to start running. However, there was no indication of progress until the report completed. In v13.4.0, pressing this button will cause a new report status tab to appear that will include a progress bar and a cancel button.
You can also close this tab and view the progress via a new menu item at Reports>>Excel Reports Status. When you see the report is completed, you can click the report hyperlink to download the finished report and/or cancel the report from this page.
The behavior of the other report buttons has not changed. We recommend that, for long-running reports, you use the Export To Excel button.
Better topology visualizations
[responsive]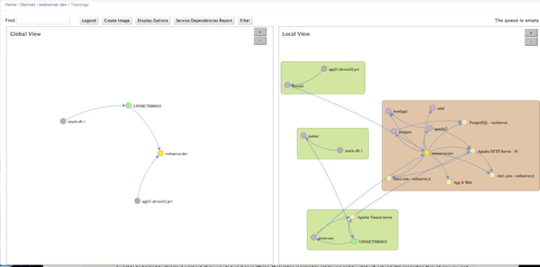 [/responsive]
We have made 2 major changes to the topology visualizations in Device42:
The node names are now outside the nodes so that each node uses less real estate and the visualization is easier to read and understand.
Prior to v13.4.0, all services and connections to a device were displayed. For devices with large numbers of services and connections, the resulting graph could be difficult to read. In v13.4.0, we only load services on the device and any immediate connections to that device. This makes the initial graph display much faster and is much easier to read.
For services or devices you are interested in, you can use the expand option in the hover-over to view secondary and further services and connections.
Show footer on list pages within the view
As you scroll down on list pages – the footer with the count information and the horizontal scrolling bar (if there is a large set of columns) now show up within the view. This will make navigation easier for the list pages.
New action menu for service instances
We have added "Do a re-importable export for selected items with no connections" action. With this action, you can easily download services with no connections – and assign application components to services you care about. Also, it gives you a quick way to find zombie servers – servers that have services running, but no connections.
Auto-discovery additions and changes
CiscoAsyncOS: add initial support for device.
Support added for Cisco's newer MIBs for stacked switches.
Reporting changes
Added total ports column to power unit report
API changes
Added email for adminusers get call (/api/1.0/adminusers/)
Bug Fixes
Multi Community String option – API is not working. Fixed.
vmware auto-discovery was failing if port 80 was blocked. Fixed.
Known issues
Excel exports from the UI for the power/environmental data and certificate reports don't work in 13.4.0. You can display on screen or schedule the report to get the excel file as a workaround until this is fixed. All other report types are working fine.
Visualize your IT ecosystem with single source of truth