Application Dependency Mapping
Automated Service Impact Discovery, Dependency flow diagrams, Application Impact lists, Easy Impact Visualizations, and more!
Device42 provides data center managers with an automatically generated, centralized repository of application, service and device relationships and dependencies whether running on premises on physical machines, on virtual machines, or in the cloud.
You can confidently retire or consolidate assets only if you understand their current inter-dependencies and business impact. Facilitate effective migrations with the clear understanding of application interdependencies only Device42 can provide.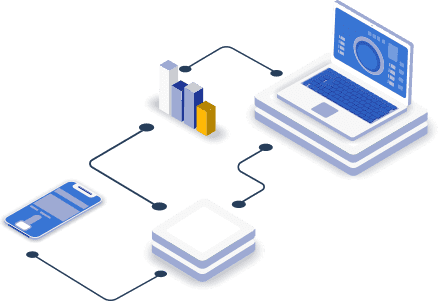 Agentless services and application discovery using

 

native protocols

Agent based discovery

 

available for sensitive and/or often disconnected devices
See all

 

deployed

 

applications, manufacturer / owner, version number and function

'Pin'

 

key services and Affinity Groups

 

defines

 

move groups & calculates impact charts for each; See a visual grouping of communication patterns

List

 

all services, running or not, users, protocols & ports
Granular

 

software and service

 

details include install location, date, registry information, permissions, and configuration files for each software component!
Application dependency diagrams

 

visualize application

 

to device relationships

Map

 

applications to servers, servers to switch ports, and users to devices and applications
Enjoy

 

comprehensive application

 

dependency maps even for machines that can't be directly accessed with Netflow data!
Discoveries are

 

scheduled

, with no agents to install on thousands of servers!
Continuously scheduled discoveries automatically detect changes to your infrastructure as they are made!
Focus– Focus on executing changes, not documenting them
Webhooks– Trigger automation based on any infrastructure change with webhooks!
Monitor– Quickly detect installation of prohibited software
Well Managed– Schedule discoveries, and never think about them again
Build– Your infrastructure data is always up to date, and always audit-ready!
Device42 quickly and thoroughly discovers your entire network using a variety of auto-discovery methods, automatically correlating the collected information:
WMI – WMI & WinRM for native Windows discovery
SSH – SSH for native Linux and UNIX discovery
SNMP – SNMP Discovery (v1, v2c, v3):
Network switches, routers, and firewalls
Load Balancers (F5 BIG-IP, Cisco Netscaler, etc.)
Blade systems for chassis and blade information
Discovery & monitoring of power and environmental devices like PDUs, UPS, CRAC, etc.
SNMP over IPMI for credential-less discovery of customer hardware
Netflow– Netflow & NMAP discovery
Support– Native hypervisor and VM discovery with support for all major virtualization platforms
Big Name– Cloud discovery support for Amazon AWS, Microsoft Azure, Joyent, Linode, Digital
Cisco– Cisco UCS, Cisco discovery protocol (CDP), and LLDP neighbors
BMC– IPMI discovery for BMC boards
DNS– DNS and ping sweep for network discovery
Inventory– Pull inventory data from tools like Puppet, Chef, Microsoft SCCM, monitoring systems, and more!
Automated Service Impact Discovery
Device42 creates a comprehensive map of your services, open and listening ports, and remote connections for Windows, Linux, and BSD machines.
Know what services are listening on what ports
Understand business impacts before moving applications
Visualize all the dependencies for a particular machine
Get a list view of the service and its remote dependencies
No need to configure expensive span ports to get dependencies between servers
Be confident about retiring or consolidating assets!
Visual Application Impacts
Easily Understand Network Device Relationships!
Fast, easy, and accurate, auto-generated diagrams provide IT staff members with "anytime access" to impact charts that clearly communicate the relationships between applications, hardware components and facilities (rooms, buildings).