Device42 vs RISC Networks Discovery
RISC Networks provides tools centered around workload migration, and RISC's tools focus on helping to compare the costs of migrating identified workloads (e.g. discovered VMs and/or applications) to competing cloud providers.
Try Device42 for Free!
Making the switch is easy with migration utilities and imports.
Not only does Device42's comprehensive discovery also provide all of the details you need to plan your next cloud migration (e.g. automatic move groups based on your application/service dependencies) on both AWS and competing providers (e.g. Microsoft Azure) — but it also continues to provide value well beyond the completion of your cloud migration project with its unrivaled enterprise feature-set:
| Solution Comparison | Device42 Core | RISC Networks CloudScape |
| --- | --- | --- |
| Option To Keep All Data On-Premise | | |
| Agentless Discovery | | |
| Optional Agent-based Discovery | | |
| Native Windows Discovery | | |
| Native Linux Discovery | | |
| Other OS Discovery (Mac, BSD) | | |
| VMWare Discovery | | |
| Native Discovery for Other Hypervisors | | |
| Native Discovery for Cloud Platforms | | |
| Application Dependency Discovery | | |
| App/Service install path, config files, permissions, & registry keys | | |
| NetFlow Support | | |
| NMap support | | |
| Blade Chassis Discovery | | |
| IPMI Devices | | |
| PDUs, UPS, BMC's, ATS | | |
| Certificate Discovery | | |
| Active Directory | | |
| RESTful API | | |
| Webhooks | | |
| Database Access via SQL | | |
| Audit / Change History Trail | | |
| Multi-Tenancy | | |
| Multi-Language Support | | |
| Power Monitoring | | |
| Full CMDB | | |
| Automatic Move Groups | | |
| Cloud Cost Estimates | | |
| Resource Utilization | | |
*All feature data deduced from RISC Network's website and available marketing materials. Please let us know if something isn't right and we'll gladly update it.
Our Solution
Device42's usefulness far outlives migration planning and execution. After completion of your migration project, Device42 remains your one-stop single source of truth with a fully integrated suite of enterprise features: Complete DCIM, IPAM, a full CMDB, resource utilization, password management, certificate management, software and hardware inventory, lifecycle, and license management, advanced visualizations, powerful reporting, webhooks to drive automation, an advanced, well documented RESTful API, and more!
Device42 can quickly and thoroughly discover your entire network using a variety of auto-discovery methods, automatically correlating the information:
SNMP Discovery (v1/v2c/v3):

Network switches, routers and firewalls
Load balancers (such as BIG-IP F5 & Cisco NetScaler)
Blade systems to get chassis/blade system information
Discovery and monitoring of power devices like PDUs, UPS, CRAC, etc.
Console switches, fiber switches, SAN switches, etc.

WMI/WinRM based discovery for Windows based machines (and servers)
SSH based discovery for different UNIX and Linux distributions
Hypervisor and VMs discovery with support for all major virtualization platforms
Cloud discovery support for Amazon, Azure, Joyent, Linode, Digital Ocean, etc.
Automatic Affinity groups for maintenance or migration planning
DNS sync and ping sweep for network discovery
Pull inventory data from tools like Puppet, Chef, Microsoft SCCM, monitoring systems
AS/400, Cisco UCS, and IPMI discovery for BMC boards
Netflow discovery
NMap discovery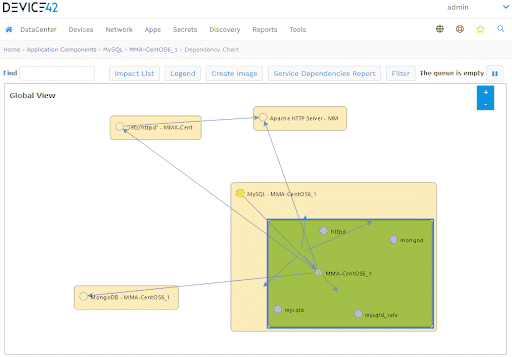 ITSM Integrations
…with Jira, Zendesk, and ServiceNow
Link CIs from Device42 to your ITSM tickets
View or Edit CI details from ServiceNow requests
Search JIRA issues by CI name


Configuration Management [CM] Integrations
…with Puppet, CHEF, ANSIBLE, and System Center
Device42 utilizes system information data stored in puppet manifests to populate asset inventory
Streamline the task of provisioning, configuring, and maintaining servers
Eliminating the need to run redundant auto-discovery processes across the IT infrastructure
Automation Integrations with Webhooks and Device42's RESTful API
…with StackStorm, Zapier, and any other if-this-then-that tool!
Trigger events with Webhooks from Device42 based on just about any happening in your infrastructure
Manipulate any CI within Device42 via its powerful RESTful API
Direct, secure SQL access to the underlying database
Easily build custom integrations
Automate anything from common tasks to complex workloads
Centrally manage multiple DNS providers from Device42


SIEM Integrations
…like Splunk and Logstash
Link CMDB items to issues in JIRA
View CI details from JIRA issues
Search JIRA issues by CI names
Display racks and devices inside JIRA when adding/creating/modifying issues
SeeIT All in One Place!
Once your data is loaded, it's time to reap the benefits. Device42 offers an extensive and highly-customizable set of reports and inquiry screens to access your CI data. But even better, Device42 provides an extensive set of visualizations including:
Your computer rooms and racks with power and capacity heatmaps
Your full IP connectivity and power chain
Your hardware, software, and detailed application dependencies
Try Device42 for Free!
Making the switch is easy with migration utilities and imports.