SSL Certificate Management
SSL Certificate management made easy with Device42
Managing complex IT infrastructures comes with a lot of little pain points: staying on top of certificate renewals and keeping the inventory of certificates up-to-date are two of them.
Device42 includes a simple yet powerful certificate management tool that makes it easy:
Autodiscover certificates by IP range, in bulk, or from a URL
Complete inventory of all your SSL certificates
Securely store private keys with granular access control
Get notified in advance before your certificates expire
Visual heat maps show time to renewal at a glance
Manage all the certificates in the chain
Ensure FIPS-140-2 compliance with cipher suite audits and algorithm reporting
Use custom fields for additional data storage
Relate devices to certificates and know which devices need to be updated.
Track your purchase orders, costs etc. around certificates
Try Device42 for Free!
Making the switch is easy with migration utilities and imports.
Autodiscover Deployed Certificates and Manage Your Entire Certificate Inventory
Manage certificates with subject, serial number and all the relevant details in the system. Discover certificates automatically, bulk load, or import from a URL or file. Keys can be stored securely with the Device42 certificate management system – Give access to only those who need it via granular access control.
Get notified before certificates expire!
Prevent downtime and embarrassment caused by certificates expiring before it's noticed via Device42's certificate lifetime management. Prevent your customers from seeing the dreaded SSL certificate "warning" screen. Instantly know how much time you have remaining until renewal by glancing at the new heat map on the certificate list page, or let the enhanced certificate reporting generate an email alert well in advance of expiration.
See all the devices that use a particular certificate.
In addition to providing clear patch panel visualizations, Device42 enables easy management of routine port connection changes using familiar drag and drop functionality:
Drag and drop to create connections from patch panel ports to devices
Connect patch panel with switch ports, and switch ports with devices
Confirmation checks eliminate accidental connection overwrites
Full SSL and Digital Certificate Lifecycle Management.
Associate a Purchase order with a given certificate, and a certificate with a set of devices. Track your full Certificate lifecycle costs with Device42's SSL certificate management software.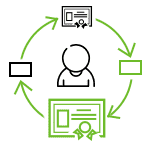 Device42 Is Trusted By The Brands That You Trust




Device42 is taking us from anarchy to the organization.
– Matt Iles
Network Systems Manager
International School of Beijing