Server Inventory Management
Document the details of every device in your infrastructure
Support for multiple device types, physical, virtual, clustered and more
Device42's web based UI is fast and easy to use
Access devices from the Device42 Home Page via the devices menu, links, or via search (almost everything is searchable in Device42, and the search box is available at the top of every page).
Device Navigation
Navigation in Device42 is a breeze
Lists are searchable and columns sortable
List filters enable quick and easy drill-down into your device data
Add a device
Device Information
Device42 supports all types of devices, including physical, virtual, and clusters
One or more attributes may be associated with a given device, e.g.: network switch, fiber switch, blade chassis, virtual host
Hardware models are template based, when adding a new device chose and existing hardware template or create a new hardware model on the fly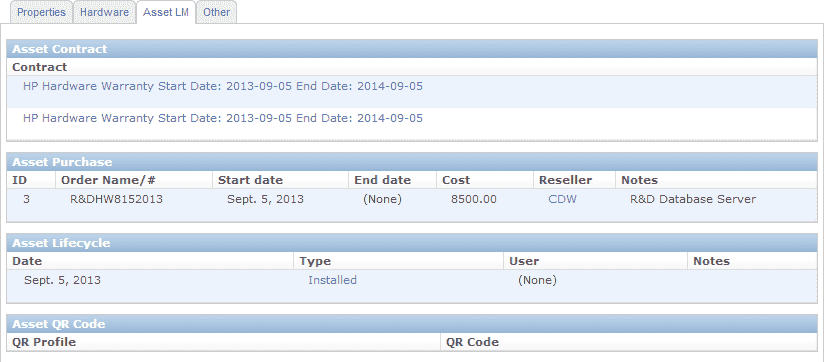 Record detailed information about your devices
CPU, Memory, HDD and RAID Level
Track OS Version and Licensing
Assign IP and MAC addresses, another of Device42's great features is full IPAM functionality – automatically assign next available IP address to your device. No more spreadsheets.
Hardware components tracking
View and change Network Switch and PDU port connectivity
Check out/Assign devices to users
Assign and store passwords for your device with 256 bit encryption and control who has access
Add device urls and attachments, assign custom values
Auto Discovery
Easily pull the information from your Cisco UCS, VMWare, and Citrix Xen environments into Device42
Create recurring schedules to keep the data current, select one or multiple days and time of day. Maintain multiple schedule
Server Auto-Discovery Client
Use the Device42 Auto-Discovery client to discover Windows, Linux, and HyperV systems. The client will discover host name, OS, Manufacturer, Hardware model and serial, processor, memory, and IP configuration
Data will be fed directly into your Device42 appliance and correlated with existing data
Run as a service and schedule recurring scans
Device Contract and Life Cycle Management
Track your support contracts and warranty information per device
Record contract start and end dates, plus renew by date
Never miss a renewal date for your devices, create reports for contract end dates and schedule email notification at 30, 60, or 90 days prior to expiration
Record purchase info
Track the asset lifecycle with user-defined Type, e.g.: inventory, installed, retired, etc.
View asset QR code information, assign QR code profile for automated code generation and association
Try Device42 for Free!
Making the switch is easy with migration utilities and imports.