Device42 for IT Operations
Device42 for IT Operations is your single source of IT truth. Device42 automatically discovers all of your infrastructure and applications across both the data center and cloud, giving you a complete picture of your IT estate. Perfect for large organizations dealing with complex IT infrastructure and federated IT control. Integrates with everything you're already using across ITSM, SIEM, and Configuration Management tools.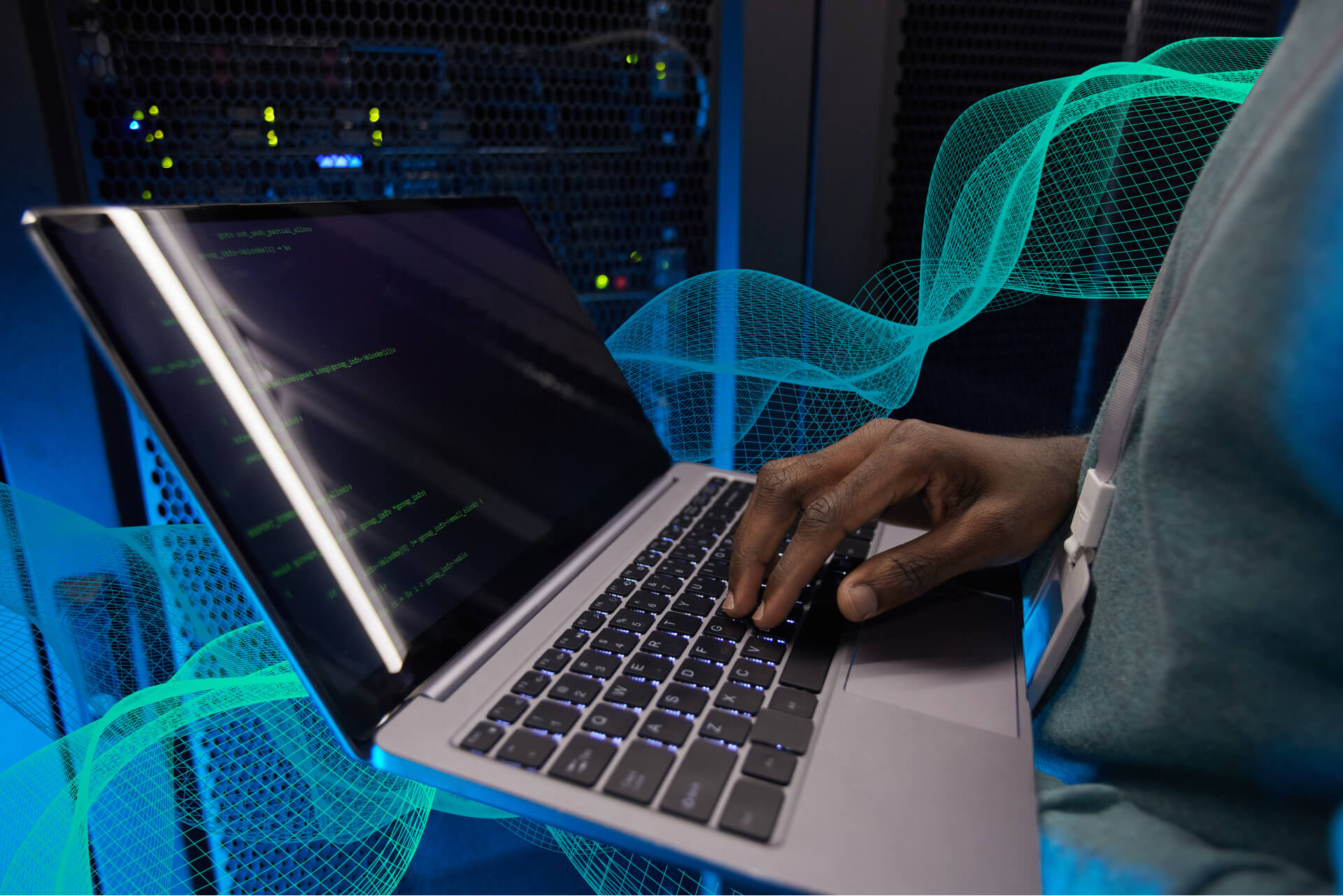 Holistic data center and cloud visibility
Root-cause analysis
Compliance and audit
Enhanced provisioning and automation
Workload optimization
Faster issue resolution
Lower application down-time
Reduce manual documentation time (and cost)
Reduce compliance risk
"Device42 is the greatest thing since sliced bread. For the first time we can 'see' everything in one place."
- A large financial institution
"Take security requirements into account from the beginning – Don't take security lightly, and don't treat it as an afterthought. Security is not only important when someone is asking for the results or auditing you, but should instead be taken into account every day. Device42 was obviously built with the hybrid and cloud-only environments in mind, and if you run a hybrid or cloud-only datacenter, Device42 is a great choice."
"With Device42 we were able to migrate to the cloud in half the time, and with more confidence knowing that we had access to accurate information."
- Large Pharmaceutical Company
"There is no way to effectively manage IT without a software solution designed specifically for this purpose. It's difficult to find a product that can offer the comprehensive capabilities and extensive features that Device42 offers, at a cost of one-tenth (1/10) the many other less-featured solutions on the market today. For us, the bottom line is about delivering exceptional functionality and support to our customers and Device42 software delivers the functionality and value that helps make that happen."
- A large Service Provider
Infrastructure and IaaS Discovery
Device42 provides agentless and automatic discovery of all your IT assets, including physical, virtual and cloud components. Storage and Network switching, bare metal servers, chassis and blades, hypervisors, IP subnets and cloud services are all discovered.
SNMP, IPMI, RedFish, and Cisco UCS discovery
Physical and virtual infrastructure
Load balancer discovery
AWS, Azure, GCP, and Oracle
Container discovery for Docker and Kubernetes
Cisco UCS Manager Auto-discovery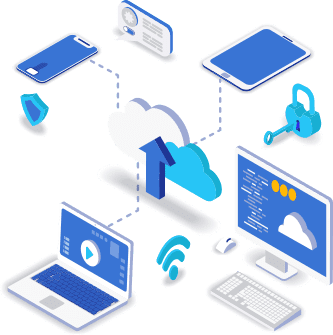 Device42's CMDB provides a single source of truth within your organization. This gives you a clear view into your IT ecosystem to identify, manage, and verify all configuration items (CI) in your environment.
Pre-configured CMDB
Audit history for all events
Time series impact
Asset visualizations
Integrates with most ITSM platforms including ServiceNow, Jira Service Desk, and Freshservice
Software License Management
While understanding what assets are deployed across the data center infrastructure is a critical component, it's also important for organizations to create and maintain a comprehensive, accurate profile of the software deployed on machines across the entire IT infrastructure.
Catalog installed packaged software, patches, and versions
Compare current usage to license counts
Detect prohibited software
Track license agreements and expiration dates
Identify purchased vs. installed software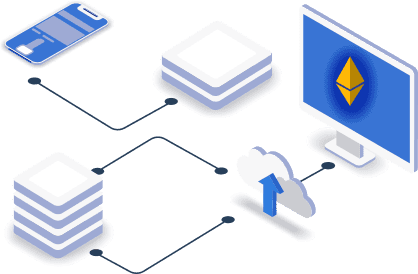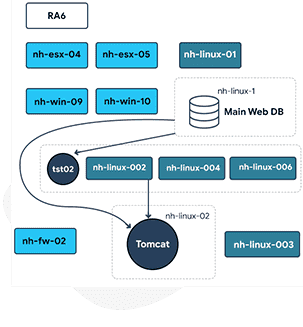 Application Dependency Mapping
Application Dependency Mapping (ADM) allows Device42 to auto-discover application dependencies and service dependencies on a deeper level across your entire network. ADM is valuable in a range of scenarios. Migration and transformation projects are informed by the detailed dependency information that ADM surfaces. Lifecycle operations ITSM and DevOps are likewise enhanced as information about downstream impacts from incidents is made available.
Agentless services and application discovery using native protocols.
Application dependency diagrams visualize application to device relationships.
Use Application Impact Lists to reduce risk and potential downtime.
Automatically discover application components for applications such as Oracle, Postgres, MySQL, MongoDB, IIS etc.
Detailed configuration discover for major applications like Oracle, Microsoft SQL, MongoDB, PostgreSQL, MySQL, ColdFusion, IIS, Apache, and more.
Infrastructure data isn't very useful if you can't easily integrate it with other tools. Device42 integrates with every tool you're already using to manage your IT infrastructure. That includes ITSM tools like ServiceNow, Jira Service Desk, and Freshservice, as well as Configuration Management tools like Ansible, Puppet, Saltstack, and Chef. See a complete list of our integrations.

Additional Features and Functionality
Hardware inventory management
Device42 locates and updates your devices automatically making it easy to document physical, virtual, blade, clusters, switches or any other device types.
IP Address Management (IPAM)
Managing IPs in the data center is a vitally important component to effectively managing the data center. Device42's IPAM functionality provides centralized management of your data center's IP address space.
Data Center Infrastructure Management (DCIM)
Device42's powerful data center infrastructure management (DCIM) capabilities have revolutionized the way IT departments manage their data centers.
IT Asset Management (ITAM)
Device42 provides comprehensive IT asset management capabilities to completely document all IT assets across your infrastructure deployment.
SSL Certificate management
Managing complex IT infrastructures comes with a lot of little pain points: staying on top of certificate renewals and keeping the inventory of certificates up-to-date are two of them.
Device42's enterprise IT password management software centrally and securely manages shared passwords used between IT teams.
Case Studies & Customers Stories
Device42 – Precisely Testimonial
Precisely uses Device42 as the 'single source of truth' to help them understand the impact of moves and changes, and conduct what-if scenarios.
Freshworks Partnership and Integration with Device42
Freshworks partners with Device42 to gain advanced asset management and discovery capabilities, and to extend their solutions for Service Management.