Jira Cloud Integration with Device42
Enhance your ITSM by connecting Atlassian's Jira Cloud to the Device42 Enterprise CMDB!
Integrate your Device42 CMDB with Atlassian's Jira Cloud software to take advantage of comprehensive discovery, visualizations, and automation across multiple use cases including DCIM, ITAM, ITSM, IPAM, and ADM.
This easy-to-set-up, free plugin connects your Device42 CMDB to Jira and lets you create Jira tickets within Device42 and attach assets to the tickets to ensure your teams are working on the right assets. Additionally, you can see all tickets attached to an asset for better visibility into historical work done with the asset. This makes managing incidents and day-to-day operations more efficient.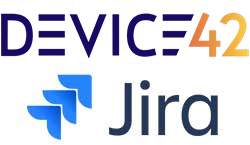 Link CMDB Items to Existing Jira Issues
You can link any of your Device42 IT assets to Jira issues right from the Device42 CMDB and view the entire ITSM ticket history for any linked asset. This provides context for your teams and empowers them with the right information they need to close the Jira Issue.
Create New Jira Service Management Tickets in Device42
When viewing an IT asset in Device42, simply select Add Jira Issue and enter or select the ticket information. The new ticket is then linked to and immediately viewable in Service Management. You can also see any existing Service Management tickets attached to a Device42 asset.
Device42 asset details in Jira issues include timestamps, device types, service status, and more. Staff can quickly identify IT assets to direct troubleshooting and click device name links to jump to full asset details in Device42.
Follow the installation instructions on the Atlassian Marketplace page to download the Device42 plugin. Then select Tools > Integrations > External Integrations from the Device42 menu bar to enable the Jira integration.