Release Date: September 6, 2023
Release Overview
In 18.10.00 we introduced the Summary Discovery for Azure, a new Executive Summary dashboard and improvements to PDU discovery. This release also includes improvements to Brocade discovery and Motivair CDUs.
Azure Summary Discovery
The Extended Summary Discovery option is now available in Azure! By selecting the Extended Summary Discovery option within the Azure Discovery job, Device42 will pull in the high level details of all resources within the Azure environment.
Once your Azure Discovery has run, navigate to Cloud Resource and add in the Summary Category to see these resources.
Opening any resource allows you to view the Resource Map which can be expanded/contracted to get a visual overview of the Azure environment.
We will continue to add traditional deep discoveries within Azure, our most recent additions being in 18.08.00 of Blob Storage and database discoveries. Deep Discoveries will consume licensing, while the Summary Discovery can currently be enabled without consuming licenses. If you have feedback or customers on Azure discoveries or the Summary Discovery, please reach out with any questions or feedback..
Power Management adding PDU Infeed Data
We improved how we show power data in graphs. When viewing the room layout, Users can now manually specify the power rating on infeeds for power units that do not provide this value via discovery, thus allowing the Room Layout to represent the power usage for each power unit properly. We allow rated power and rated power unit infeed to be editable via API and import/export.
Service Dependency Reports
Service Dependency reports have been updated to include additional relationships with Resource-based dependencies that were previously not reporting at all. In addition, the service dependency report has been updated to remove all old deprecated columns that have been empty since version 16.
Executive Summary Dashboard
With this release we've introduced a new dashboard called Executive Summary. The purpose of this dashboard is to provide a high-level overview of the environment as discovered by Device42. The dashboard contains the following tabs:
Overview – Total devices and resource by type. Includes a trend chart showing changes over time for on-prem and cloud resources.
By Location – Shows where your assets are deployed whether they be in a physical location or in the cloud.
By Type – Counts of resource by type, top hardware and operating systems
Business Apps – An inventory of your Business Applications and whether they are deployed on-prem, in the cloud or are hybrid.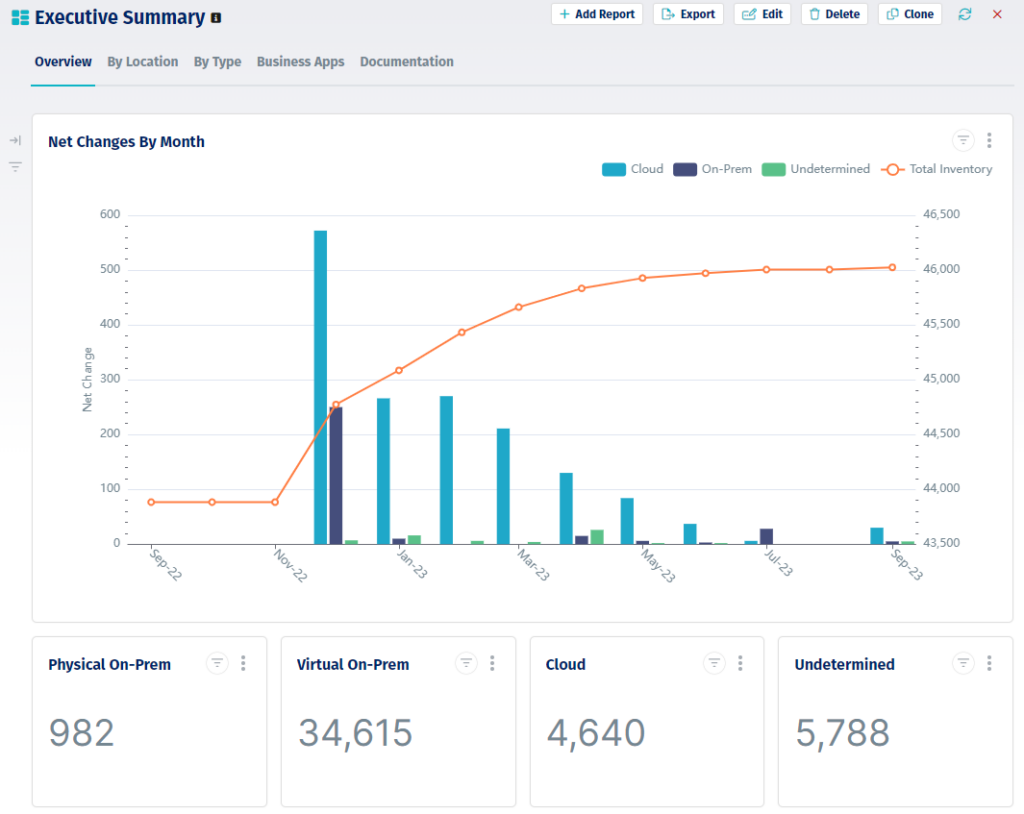 List Pages Conversion
Device42 continues to update its various list pages to our new format to improve their appearance and usability.
Brocade Discovery Revisions
Brocade discovery via SNMP now better understands relationships between physical and virtual switches, with multiple contexts now provided. The physical switch will be discovered as a physical network device, each context will be brought in as a virtual network device linked to the virtual host, bringing in names and all ports associated. The port will see the virtual device as the primary and the virtual host as secondary.This adjustment solves the issue of Brocade VIPs being discovered as multiple switch devices and improves our approach to more complex switching.
SNMP Support for Motivair CDUs
Motivair CDUs are now discoverable via SNMP with limited device information. Additional information will be coming in future releases.
Bug Fixes
Child ports are filtered to split type only
Admin Groups is displaying all users repeating for every group instead of the proper group membership
404 error when clicking on Job Name on Tags page
Error occurred when using Tags contains () in Advanced Filter on Devices list page
Divide by zero error on Compute Dashboard
Administrators unable to export discovery results
Fortinet Firewall clusters only being discovered as a single FW
Error occurred in some cases when trying to view a Classic Report
Alibaba VMs incorrectly being set to not in service
Location column was not being populated when running Generate Run Book for storage rooms
IP searches with large datasets was not performing well with non-superusers
Bulk lifecycle event dropdown not scrollable
Unable to create time range filters in Superset
Cannot create a user account with 50 or more characters
Error 'int' object is not subscriptable" is occurring on Resource page in some cases
Sorting on a discovery score column results in error
Performance issues with UI display for non-superusers
In some cases all AWS resources were not being discovered correctly
S3 bucket size was not being collected correctly
For some HP switches the physical subtype was incorrect
Hardware model was incorrect for Cisco UCS devices
Latest Device42 Update
Current customers, grab the latest update file @ https://www.device42.com/update/.
If you haven't tried Device42 yet, download a 30-day free trial!