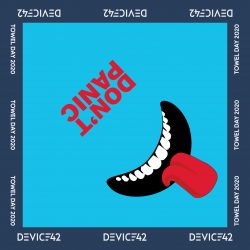 As most readers of this blog are aware, the "42" in Device42 refers to Douglas Adams' classic "The Hitchhiker's Guide to the Galaxy", a fantastic book that everyone should read. In fact, if you haven't read it, I suggest you close the browser tab and go get this book now. I'll wait.
Ok, now for everyone else who has read the book (or listened to the wonderful original radio show, or watched the original BBC tv show, or the interesting-if-slightly-disappointing movie), you'll remember that the towel is the most massively useful thing an interstellar hitchhiker can have.
Given our obvious connection to the book, we are, naturally, extremely excited about Towel Day, the celebration of everything Douglas Adams, on May 25th.
So excited, in fact, that we've decided to run a new Towel Day contest where you can win one of these fantastic "Don't Panic" towels/bandanas pictured here in this blog post.
How do you win one of these wonderful, super limited-edition towels? Simple:
Be one of the first 100 people to

share or re-share

this blog post on

Twitter or Linkedin

with the hashtag

#device42towelday

, and we'll send you one!

Got a great story about how you applied "Don't Panic" to an IT situation? We'll be giving away prizes for the best stories – simply reply to the post on social to be included:

Twitter & Linkedin

. 1st prize is a $300 gift card, with $100 for 2nd place, and $50 for 3rd place. Judges will include our own Raj Jalan, co-founder of Device42, and yours truly. 
More contest fineprint:
Contest will run for 45 days, starting Monday May 14 at 11:00am EST – June 30th at 11:00am EST, 2020.

Gift Cards are limited to

Argentina, Australia, Belgium, Brazil, Canada, Saudi Arabia, Ireland, Italy, Netherlands, Spain, Singapore, France, Germany, India, UAE, US, UK

If you're not in any of these regions and you win a gift card, we'll find a way to send your reward.

Entries limited to one (1) entry/share per individual. (no cheating!)

We'll track down posts via the hashtag, and reach out via social media! So don't be afraid to respond to our DMs.

We'll need your company email and shipping address too!

We will NOT sell your address or use it for anything nefarious (but it may be used in Vogon poetry).

No purchase necessary, purchase doesn't enhance your chances of receiving a towel.

Winners will be reviewed and contacted before the contest ends!

Winners may be placed inside the infinite probability drive. Or not.