VMware Cloud on AWS brings VMware's enterprise-class software-defined data center software to AWS and enables users to run production applications across VMware vSphere-based private, public, and hybrid cloud environments, with optimized access to AWS services.
It provides a number of differentiated, measurable benefits to IT teams who use it…
Financial
From a cost perspective, VMware Cloud on AWS is a great option for companies rapidly migrating their workloads to the cloud and moving away from a capital expenditure (CapEx) model to an operating expense (OpEx) model.
Management
VMware Cloud on AWS leverages the same management tools as those used in on-premises environments before migration, so it's faster and easier to learn and use.
Reserved Instances (RIs)
Moving to VMware Cloud on AWS still means that you can take advantage of the cost savings AWS offers via Amazon Reserved Instances. Along with on-demand pricing, VMware Cloud on AWS offers 1-year and 3-year subscription options resulting in up to 50% savings over on-demand.
Capacity
VMWare Cloud on AWS provides quick and easy access to additional capacity without the need to procure, setup and manage additional equipment in-house.
With Device42, organizations get the detailed data required for the most successful cloud migrations. The right visibility makes it easy to know what to move, when, where, and how.
Fast, Simplified Migration with Device42
The Cloud Recommendation Engine (CRE) within Device42 provides users the details needed to plan a cloud migration, compare costs, and rightsize cloud deployments. Recently Device42 introduced VMWare Cloud on AWS as an option in the CRE user interface (UI). Users can also run the CRE for VMWare Cloud on AWS using our powerful SQL-compliant reporting language DOQL (Device42 Object Query Language) for greater flexibility.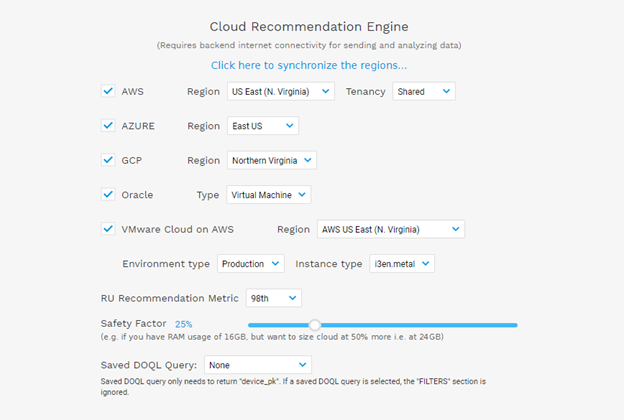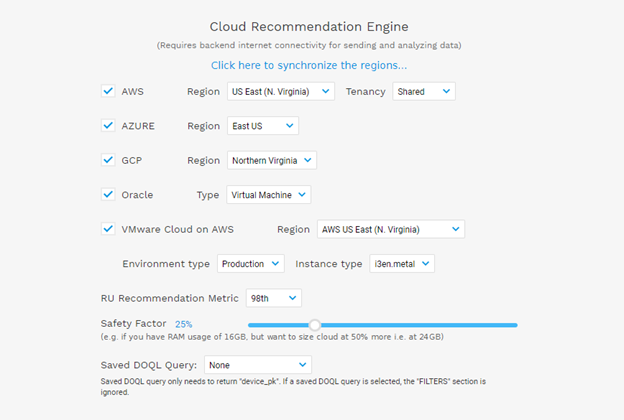 Device42's current implementation of the VMWare Cloud on AWS recommendation runs for bare-metal / physical and ESXi hosts while also ensuring that it adheres to the minimum requirements.
The assessment results provide the ability to rightsize VMWare Cloud on AWS deployment and migrations based on resource utilization (RU) data collected by Device42. The results can also provide a recommendation based on server configurations, and show the cost savings based on purchasing 1-year and 3-year reservations, along with the on-demand pricing.
Find out more about Device42's Cloud Recommendation Engine or try a free trial today!