Device42's Application Dependency Mapping (ADM) capabilities enable IT teams and service providers to make better-informed decisions with an automatically generated, centralized repository of application, service, and device relationships and dependencies between physical, virtual and cloud resources. As hybrid IT enterprises continue to become more common and complex, this functionality becomes more important to successfully manage IT.
With the recent release of V16.22.00 we've added some significant enhancements for Device42's Application Dependency Mapping, which include the addition of automated application component and Affinity Group categories supported by new application widgets and additional details for Business Applications.
Automated Application Component and Affinity Group Categories
Manually sorting through the different types of application components and Affinity Groups can be a challenge in large, complex IT environments. Device42 now makes this easier by automatically categorizing application components as database, application layer, web server, load balancer, or other. Users can filter the list page based on its application component category. You also have the flexibility to categorize custom components as well.


These application component categories also make Affinity Groups easier to use and more informative. Any application component categories associated with a device used to create an Affinity Group will be associated with that Affinity Group. This means that you can now filter your Affinity Groups by different application components. Quickly identify database, web server and many other Affinity Groups simply by filtering.

New Application Widgets
Device42 has also added new application widgets to the homepage to support the new automated application component and Affinity Group categories. These widgets provide insight into available application components. One widget offers a pie chart that shows the number of application components across application component categories. An application statistics widget shows the total number of components, Affinity Groups, Business Applications and databases. More widgets will be added in upcoming releases focusing further on your applications and their web servers, databases and other components so check back soon!

Additional Business Application Details
Device42's Business Applications functionality is a useful way to create custom maps of business-critical functions. Now users can add significantly more context to Business Applications including:
Application Type
Technical Application Owner
Business Application Owner
Responsible Department/Customer
DR Recovery Point & Time Objectives
Service Level
PII Indicator
Internet Accessibility Requirements
Migration Group Value
Criticality
Using the View Application window, visualize the dependencies within a business application.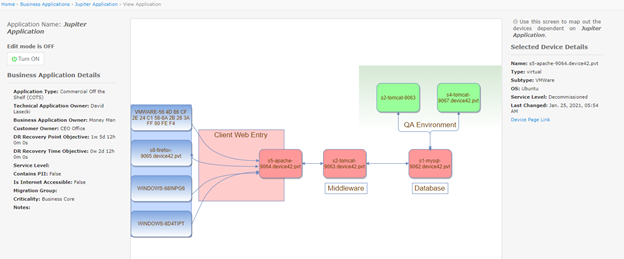 Next, drill down to get additional details on the Business Application.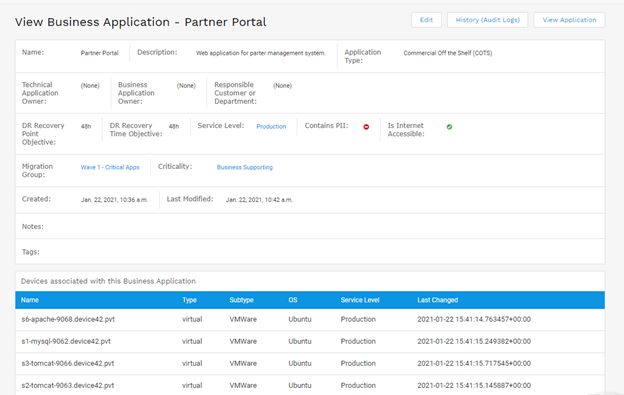 Use these details to organize Business Applications and understand how they relate to delivery of business services.
Device42's expanding Application Dependency Mapping are designed for the modern, complex IT enterprise. Use it to coordinate your IT operations, triage outages, and plan migrations with the greatest positive – and least negative – impact.
Current customers, grab the latest update file @ https://www.device42.com/update/
If you haven't tried Device42 yet, download a 30-day free trial!