We are excited to announce general availability of v14.17.1 with the following changes:
SNMP changes
We have expanded SNMP auto-discovery to support a few new devices. In addition, we've also improved support for some existing devices so they're imported more accurately.  The following highlights some of these additions:
Cisco 6509 switches in VSS mode
HPE Gen 10 DL380
Infoblox devices such as IB-820
Eaton UPS and Eaton ATS support
HP LaserJet support
HP 3PAR storage devices
v14.17 is Migration-Ready for the Upcoming v15
We are very excited to announce that the next major release (v15.00.000) of Device42 is around the corner. It is packed with many product improvements, one of those being a change from Ubuntu to CentOS. As such, this will be the last upgrade that supports the current architecture as we finalize migration procedures for the new architecture. Device42 v15 will be deployed as a new appliance, and you can simply utilize the built-in Backup/Restore functionality to migrate your current data to the new architecture.
Please note: We've updated to 14.17.1, which is the latest and last planned Ubuntu-based release and is the only version we plan on supporting for migration to v15. Be sure to update!
Convert legacy Power SNMP jobs to latest SNMP Autodiscovery
We will be removing all support for the legacy Monitoring Appliance in v15+ [it will no longer function]. In preparation for this changes, we are facilitating the migration of existing legacy Power SNMP jobs to the latest SNMP Auto-Discovery in v14.17.1.
To access your existing legacy jobs, visit TOOLS>Auto-Discovery>Power (SNMP), select all the jobs you want to convert, select the "Convert selected jobs to SNMP" action, and simply click "Go!"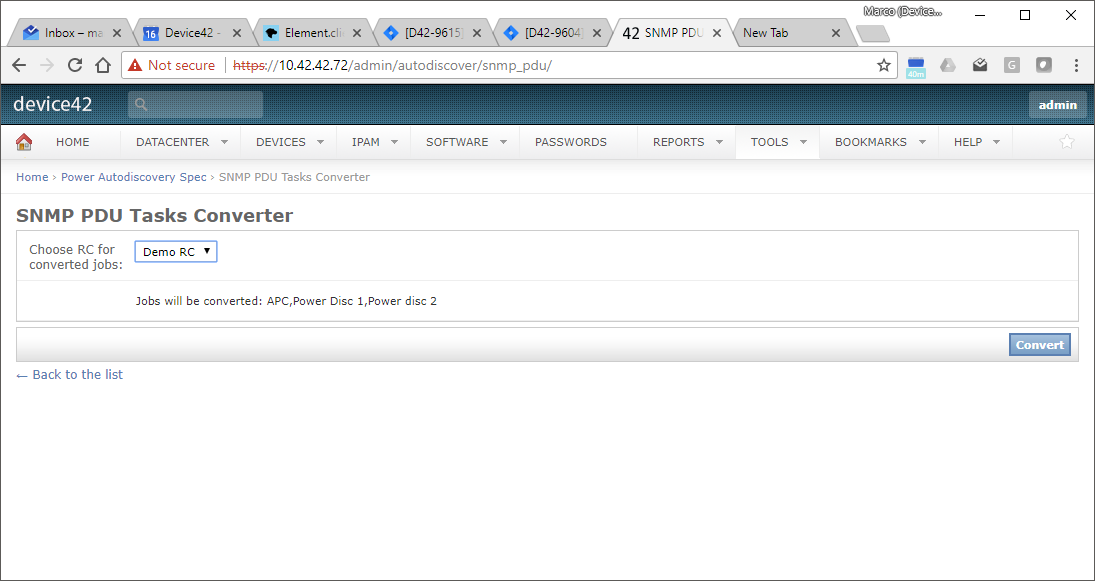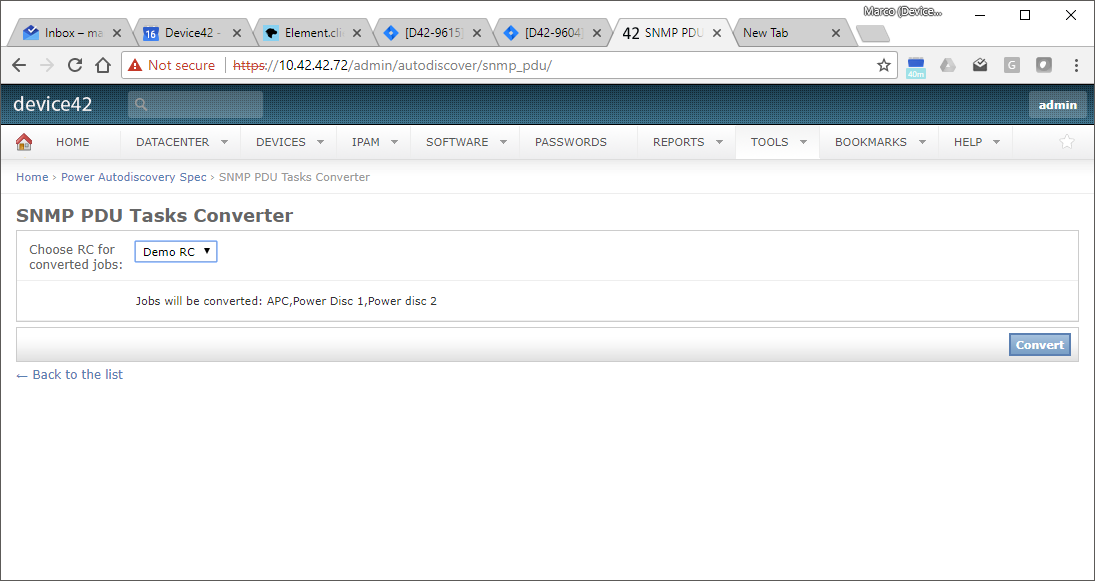 Backup support for SFTP SSH Keys
We have added the option to include your SSH Key pairs in your Database Backup. You now also have the option to restore those SSH Keys, allowing you to easily migrate your backup jobs to the latest v15.00.00 appliance [once it becomes available].
Bug Fixes
Device Name Format option in auto-discovery jobs was not being followed. Fixed.
*nix auto-discovery jobs may report panic messages rather than more detailed errors.  Fixed.
Dell warranty sync may report 'NoneType' object has no attribute split.  Fixed.
Lenovo warranty sync may report timeout error.  Fixed.
Unable to discover Windows 2000 servers.  Fixed.
Nutanix auto-discovery was not importing cluster device.  Fixed.
Ping Sweep job could fail with an out of memory error.  Fixed.
---
Latest Device42 update
Current customers, grab the latest update file @ https://www.device42.com/update/
If you haven't tried Device42 yet, download a 30-day free trial!