Introduction
In this fifth and final entry in Device42's Ultimate Guide to migration, we'll cover post-migration work. This work mainly comprises the decommissioning of your old datacenter.
If you're new to the Device42 Migration series or if you'd just like a refresher, you might be interested in the Device42: Migration Infographic. If you'd like to check out any of the previous installments, they are:
Part 1: Readiness Assessment and Creation of the Pre-Migration Plan
Part 2: Migration Project Plan
Part 3: Migration Prep & Solution Design
If you've made it this in your project, congratulations on getting through your Migration in one piece!
In this final entry in the series, we'll cover:
Validating your migration

Ensuring each system gets properly decommissioned

Properly disposing of old hardware

…and finally, shutting down the old facility
Validate the Migration
First, make certain that your migrated servers, services, and applications have been moved and are functioning as they should be, and that all your customers (internal and external) have seamless, working access to the resources you expect them to.
You'll do this by triple checking to ensure legacy systems are no longer being utilized – monitoring both via your monitoring systems and your application monitoring tools, by validating the configurations of your client applications, and finally, leveraging packet capture tools if need be to ensure requests are coming over the wire that you didn't expect.
Triple check all DNS entries are pointed at the NEW system IP addresses only!
Mark each system as Decommissioned
It's time to make sure all legacy systems have been designated as such. Go through your monitoring software and make certain all legacy systems have been marked as "decommissioned" and can no longer send alerts; remove them from monitoring if this is not possible. Make sure there aren't any DNS records still pointing to the old systems.
Finally, turn off your old machines and related hardware!
Post migration Party
It's party time! You don't have to decommission your old DC the same night as your migration — that'd be crazy, but it must be done soon. We recommend partying with beer and pizza, but of course you're free to do you — so go ahead, party like it's 1999!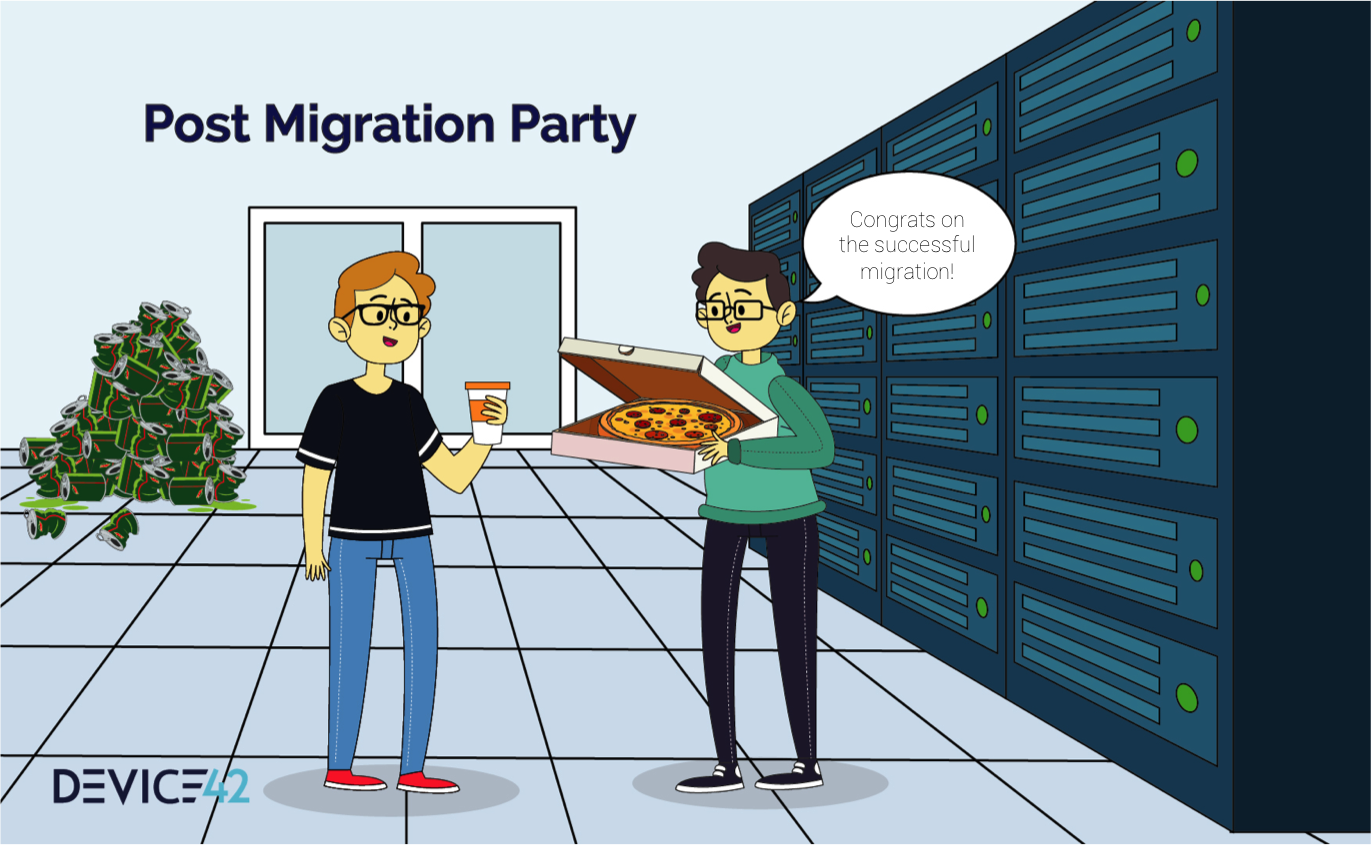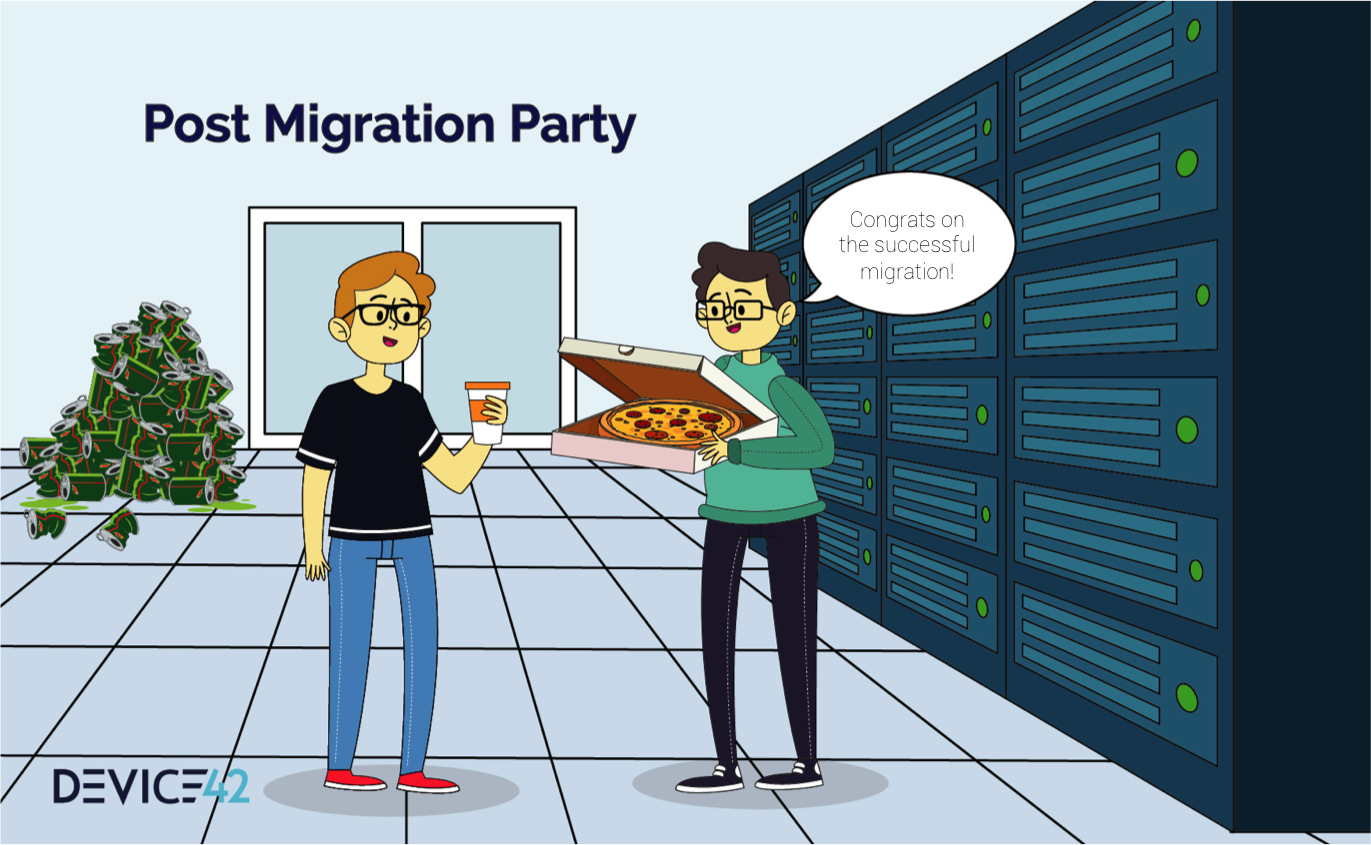 Dispose of old Hardware
Hopefully you didn't eat (or drink!) too much during last night's. — because it's time to dispose of old hardware.
First, you'll want to consider obligations around any client data contained on your system(s), ensuring compliance with security & privacy regulations. You could be subject to one or more of the following regulations, such as:
NIST 800-88 standards

DoD 5200.22-M data sanitization

HIPAA / HITECH

Sarbanes-Oxley Act

Gramm-Leach-Bliley Act

FACTA Disposal Rule

Bank Secrecy Act

Patriot Act of 2002

Identity Theft and Assumption Deterrence Act

US Safe Harbor Provisions

FDA Security Regulations

PCI Data Security Standard

[note: this is an incomplete list used as an example, only.]
Do keep in mind that besides the above, well-known regulatory rulesets, you may be subject to other local, state, and/or federal regulations specific to your location.
Disposal Techniques
There are many different options for disposal. To comply with a given set of disposal requirements, different disposal techniques can be utilized.
Most common methods should fall into one of the following categories:
Degaussing

– A powerful demagnetization process that renders old HDDs and their data un-readable (100%)

IT Asset shredding

— Renders hardware fully unusable / inaccessible

Secure recycling

– End to end chain of custody ensures sensitive data is disposed of properly

Incineration / Meltdown

– This method uses special furnaces to cleanly and completely burn anything flammable

[e.g. paper, plastic, rubber, silicon, etc.]

, while melting down anything that is metal-based.
Do everything to the letter when it comes to Auditing and/or Reporting  your disposal methods and procedures. Ensure anyone you contract with properly documents and audits the entire disposal process per any regulations you are subject to.
Be sure to retain any paperwork, like copies of related disposal documents, contracts, etc. to ensure compliance with regulations, and so you know who to chase down on the off chance you should encounter an issue. With the paperwork in hand, you should be able to say with full confidence that your old data center assets were destroyed, properly, and that your unused IT assets were handled and disposed of in a proper, legal, and environmentally responsible manner.
Shutting Down the Old Facility
Assuming you have moved completely out of your old hosting facility, it's time to take the final steps to shut it down. There are a few simple but important steps to take care of for final shutdown..
Consult the requirements, if any, for how the vacated space must be left. Does it have to be 100% empty? Are you responsible for cleaning? What about removal of custom structures (cages, rack installments, wire ladders, wiring, etc.) that you may have added? Be sure you know and understand the requirements and follow them to the letter to not lose your deposit.
If there is any decommissioned hardware in your data-center, building, or cage, you'll want to shut it down to prepare it for its next destination; before doing so, however, (assuming the hardware is to be re-used – you've already taken care of preparing anything that isn't getting re-used for disposal), check carefully for any disk (HDD) failures. Should an existing RAID failure be present and go unnoticed, at best, you'll have a broken server when you go to bring it up again or re-purpose it; at worst, you could experience data loss. The good news, however, is that just about any data that is left on machines in your old facility should now be redundant.
Be sure to pack anything that is being shipped or transported appropriately, tracking the status of each piece of equipment with your IT Asset Management software. Follow your organization's hand-off protocols if you are transferring assets or equipment to a different business unit and be sure to label each clearly.
To finish up, remove any tools and ancillaries that belong to you before closing the doors, and connect a representative from your accounting department to your recycler so that any credits for hardware that is resold can be applied to your department's budget.
Walk the space one last time, turn off the lights, and let your landlord know that you are completely moved out of the space. Certainly, take your boss up on the beer s/he's offering for a job well done, and finally, take a minute to pat yourself on the back for a job well done.
Congrats on a job well done!
Thanks for reading, and congratulations! If you've made it this far, you're well on your way to becoming a migration expert. If you've been following along as you migrate, then at this point, it's like you've achieved your desired result – hopefully on time, and under-budget!
We hope you enjoyed reading Device42's "Ultimate Guide to Migration" series, and congrats on getting through your migration successfully. Now who's ready to do it all over again!?
Experience Device42 for yourself, free for 30 days – Download NOW!

References:
Data Center decommissioning services: https://www.datacenterandcolocation.com/services/data-center-decommissioning/
Recycle old hardware the Green Way: https://www.crn.com/recipes/channel-programs/190301317/recycle-old-hardware-the-green-way.htm
Secure IT Hardware Disposal: https://planetmagpie.com/news/magpie-tech-tips/2017/10/05/how-to-properly-dispose-of-it-hardware
DC Decom Checklist: https://www.horizontechnology.com/data-center-decommissioning-checklist/
Editor's Note: This post was originally published in June 2019 and has been updated for accuracy.