Device42 Features
Highlights & Screenshots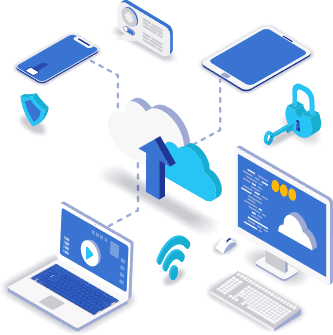 Comprehensive IT Infrastructure Management
Device42 includes everything you need to automate documentation of your infrastructure.
CMDB– A feature-packed CMDB with powerful auto discovery and intelligent application dependency mapping (ADM)
ITAM – Powerful Asset Management (ITAM)
IPAM – Enterprise IP Address Management (IPAM)
DCIM – A suite of Data Center Infrastructure Management (DCIM) tools
Integrate & Automate – Integrate with existing software, leverage powerful RESTful APIs and Webhooks for custom integrations and infrastructure automation
Device42 Feature Highlights & Screenshots
Device42: A Powerful CMDB with Auto Discovery, Application Dependency Mapping, DCIM, ITAM, IPAM, and more!
Discoveries are run continuously on a schedule, automatically detecting changes to your infrastructure as they are made, keeping your CMDB up to date. Device42's CMDB can track everything you own including IP and Non-IP based devices and assets, hardware, software, the inter-dependencies between them all, and even resource utilization!
Easily document everything from buildings and room layouts, to racks, to the network and power cables that connect to them:
Easy Building – Start at the building level, and click to jump to a completely customizable visual room layout
Quick Viewing – Click again to zoom into a rack to view photo-realistic devices in Device42's racks, and hover your mouse for quick view of any CI details
Detailed Info – Click any device to get detailed information, or move servers or patch panel connections with simple drag-n-drop.
Device42 makes cloud migrations easier, too!
Understand – Start with a website and view dependencies from the top down, or a database and go from the bottom up and create move groups
Plan – Use inter-dependency information in concert with resource utilization features to right-size move groups to target cloud instances
Analyze – Color coded rack heatmaps illustrate available space (U's), power, or temperature
Customize – Leverage RestFUL APIs or the UI to quickly get your patch panel (or any other) documentation under control
Auto discover network connected hardware, devices, software, & services – and import data from any existing system
Discover – Automatically discover all your network devices with SNMP [Firewalls, Switches, Load Balancers]
Integrate – Integrations and universal bulk import tools can bring in data from spreadsheets, and can natively import from many third party software tools.
Automate – Powerful RESTful APIs mean you can use your favorite scripting platforms to create and keep your documentation up-to date.
DCIM features include powerful visuals, drag and drop, and tree views
Visual cable management makes recording and tracing cable connections as easy as point and click. Device42 makes searching easy, sorting simple (e.g. by IP), and provides for powerful filtering (e.g. by subnet).
Trace – Quickly determine what MAC address is connected to a switch port, and easily see the associated device
Understand – View impacts from the application, device, rack, room or building level
Visualize – Device trees expand to reveal nested branches that quickly show you all devices in a rack, all virtual instances contained within a physical server, or all the blades in a chassis!
Application Dependency Mapping (ADM)
Dependency and impact visuals are auto-generated from user-defined Application components from the bottom up. Visualize your inter-dependency details right down to load balanced services. Device42's NetFlow collector is a powerful tool that adds another viewpoint for a deeper level of detail to dependency auto-discovery information from your environment.
Discover – Use topology views to discover dependencies and when planning your migration
Understand – See impact topologies from an application, device, rack, room or the building level
Right-size – Find everything that needs to move as a unit, and rightsize the target cloud instance for your move group with Device42's resource utilization features
Impress – Your boss will love the visuals or we'll take you out for beer on us (yes, really!*)
Granular Permissioning & Password Management
Simple – Multi-tenancy makes controlling access the system and defining what users can do easy
Granular – Get as granular as desired with individual and/or group level permissions, defining exactly who can (or can't) view, edit, add, or delete what resources
Secure – Device42 securely stores passwords, too. All are encrypted (AES256) always [yes, even during and in backups], configurable, and feature audited access control.
Device42 includes everything you need to do IPAM right!
IPAM – Device42's IPAM includes full IPv6 support
Track – Track detailed VLANs and subnets information
Automatic Calculate – Subnet ranges can be automatically calculated based on mask, and IP validation is automatic, too
Transfer Simply – Define and see what IPs are mapped (NAT rules) through your firewalls / routers / load balancers etc
Independent – Simply allow domain transfers from your DNS servers and schedule the auto-discovery and now DNS records are searchable & sortable, too
Records – Support for A, AAAA, CNAME, MX & PTR records.
The ITAM features you care about
Easy Export – Easy generation and printing of QR codes to track and manage the complete lifecycle of your IT assets and inventory
Mobile Friendly – More than just mobile-friendly, Device42's QR codes can be scanned right from your mobile device
Custom Value – Add custom fields for any custom key pair values, and leverage all data via Device42's powerful RESTful APIs.
NO vendor lock-in, either – export YOUR data, anytime! Create Excel formatted reports of your data, or generate CSV files with columns for each resource you choose.
Device42's built-in ITAM includes all of the following, and more:
Easy Customization – Easily add any device or custom attribute
Multiple Columns – Add any columns [like name, serial, mac, asset number etc.]
Warranty Tracking – Automatic Warranty Lookup and Tracking
Complete – Complete Asset Lifecycle Management
Import Anything – Powerful [nearly universal] import tools
Mobile Friendly – Leverage PC, Mac, or Mobile!
Out of the box integrations with popular 3rd party software, powerful RESTful APIs and Webhooks for custom integrations & automation
Open APIs to automate your IT Infrastructure management. Easily integrate with other systems using RESTful APIs, and leverage Device42's Webhooks to provide any other application with near-real-time data updates. Sort, search and filter audit logs of all changes, too.