Discover
Device42 comprehensively discovers your entire IT infrastructure, creating a near real-time map of your entire compute environment: hardware, software, applications, services, and the critical interdependencies between them.
Supported platforms include:
Windows, Linux and Unix flavors
VMware vCenter and/or ESXi
Hyper-V
Citrix Xen
oVirt/Redhat
KVM/Xen/libvirt
Hyperconverged platforms like Nutanix, Simplivity
LXC
Docker
OpenStack
OpenVZ
Solaris Zones
Mainframe/zOS
AS400
Cloud Platforms include:
Google Cloud
Microsoft Azure
Amazon AWS
Oracle Cloud
Alibaba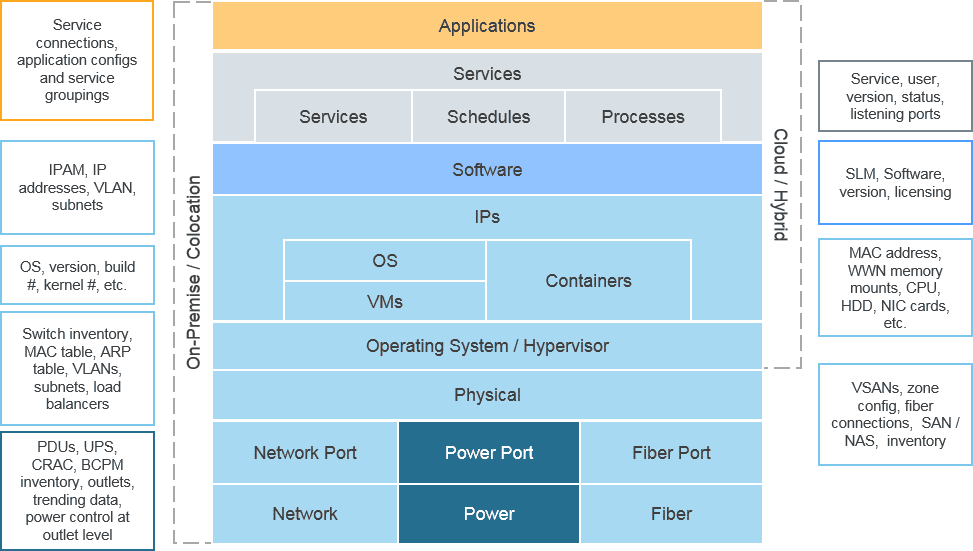 Migrate
Device42 helps automate your cloud migration planning. Leverage Device42's comprehensive auto-discovery, application mapping, affinity groups, and cloud migration engine to get to the cloud faster, more accurately, and more efficiently.
Create cloud migration move groups effortlessly and automatically with affinity Group dependency diagrams, which use your auto-discovered infrastructure details
Enjoy instance sizing suggestions & pricing estimates for your workloads on major cloud providers (AWS, Microsoft Azure, Google Cloud and more) from Cloud Recommendation Engine
Create your customized cloud migration procedure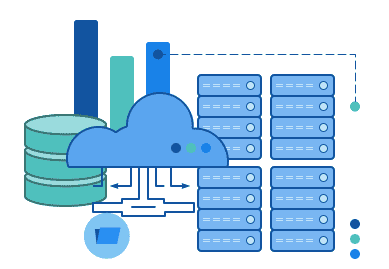 Affinity Groups and Business Apps
Affinity Groups ensure you never miss a key interdependency – avoid needless, embarrassing downtime! Device42 helps you get your applications to the AWS or Azure cloud platforms without a hiccup — No workload is too complex.
Cloud Recommendation Engine
Know the costs ahead of time!
Cloud Recommendation Engine uses RU data gathered from your actual infrastructure so your instances aren't over- or under-sized the first time.
Operate
Device42 adds agility by acting as your go-to tool across day-to-day IT operations.
Device42's CMDB provides a single source of truth within your organization with a clear view into your IT ecosystem to identify, manage, and verify all configuration items (CI) in your environment. It also gives you an extensive set of visualizations including:
Dependency charts, impact charts, topology charts, and list views allow you to quickly understand dependencies across your infrastructure
At-a-glance view of all hardware, operating systems, software, services, and more, auto-discovered and always up-to-date.
Embedded BI engine with a large selection of customizable reports offer the info you need, when you need it.
ODBC and JDBC connectors to visualize the data the way you want to with the tools you are already used to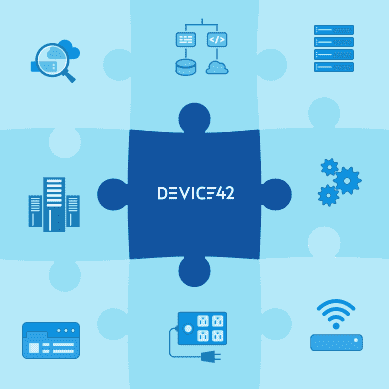 Integrate
Device42 integrates with many popular applications used in managing IT Infrastructure such as ITSM and orchestration. These integrations can enhance performance and usability of IT management systems. In addition to webhooks and an extensive, well documented RESTful API, Device42 provides various connectors that make integrations easy and effective, and automation possibilities nearly endless…!
ITSM Integrations
Boost agility across your IT operations
See all CIs from Device42 in ServiceNow
Choose Device42 CIs when creating new requests
Link CMDB items to issues in JIRA and view CI details from JIRA issues
Search JIRA issues by CI names
…and more!
SIEM Integrations
…Compatible with Splunk and Logstash
See your Device42 audit data in external logging systems
View all of your logs system-wide in one place for better correlation
Audit data is pushed via Device42 webhooks in real-time

Configuration Management [CM] Integrations
…with Puppet, CHEF, ANSIBLE, and System Center
Utilize system information data stored in Puppet manifests to populate asset inventory
Sync Puppet Facts from Puppet Master and Ohai Node data from Chef Server with Device42
Streamline the task of provisioning, configuring, and maintaining servers
Automation with Device42's Webhooks & RESTful API
…compatible with StackStorm, Zapier, and any other if-this-then-that tool!
Trigger events with Webhooks from Device42 based on just about any happening in your infrastructure
Manipulate any CI within Device42 via its powerful, well documented RESTful API
Have a ticket automatically created in your ITSM system when a new piece of hardware is detected on your network
Easily build custom integrations
Automate anything, from common tasks to complex workloads